This week, another round of updates were published to Thrive Architect.
There's a new element available, some new integrations, and a couple of advanced features that improve an already powerful tool.
Make sure you have updated to version 2.4.6 in your plugin dashboard to get access to these treats.
So… what are they exactly?
1. New Search Bar Element
Next time you scroll through the elements panel in Thrive Architect, you might spot a new element.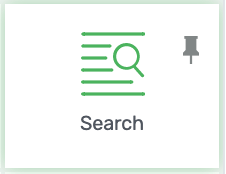 Yes, you now have access to a Search Bar! Like everything in Thrive Architect, it is fully customizable.
That means fonts, borders, corners, colors, hover settings and more… you can customize it until it looks exactly how you want.

That's a good lookin' search bar!
But don't worry if you are not much of a designer, because this element comes with 16 pre-made designs!
One click and they're loaded on your page.

16 pre-made designs + 1 unstyled default.
When you place a Search Bar on your page, you'll have some configuration options in the Architect sidebar.
You can change the button layout to a text only button, or icon only, or you can include both. All search bar templates use the magnifying glass icon by default but you can change this if you want to.
You
can also disable the search button entirely so it's simply a text entry
field. A visitor just needs to press enter to submit their search term.
The Search Bar uses an Edit Mode
to edit the form fields and button appearance. We did this to make it
easier to select the interior of the field when you want it.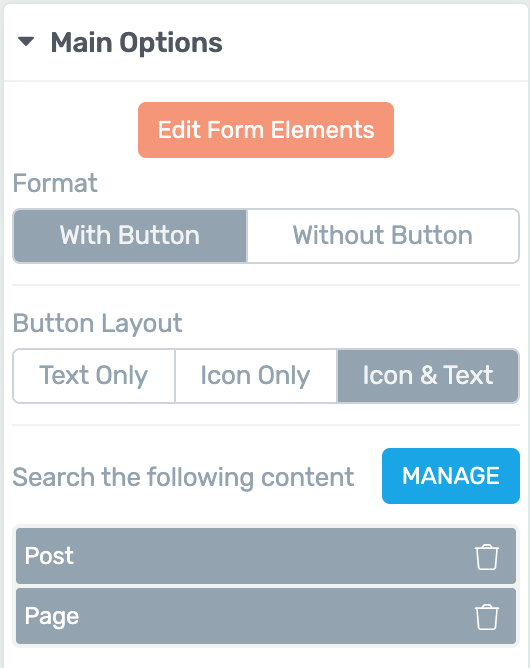 Your Search Bar main options.
You
can include or exclude types of posts or pages from the search query
too. By default, the Search Bar is set to search Posts and Pages, but
these can be disabled to let your visitor search your entire website.
You can also restrict the search to specific custom post types. Applying a filter like this at the Search Bar level will help you keep your website visitors where you want them.
How WordPress Search Works:
This Search Bar uses the native search function inside of WordPress.
You
might not be aware that WordPress has a search function built in… but
it does! You can already provide search listings, no matter what theme
or plugins you have installed.
On the front end of your website,
when a visitor submits a search term into your search bar, they will be
redirected to a search results page.
This results page is a theme template that displays the results WordPress has found that match the search term.
If your WordPress theme does not have a defined search template, it will use a default archive template from your theme.
"Can I change the search results page appearance?"
A search results page is a dynamic
page, rather than a static page. That means that it can display
different content depending on the search term without affecting the
styling.
Since it's appearance is controlled by a theme template,
changing how it looks will depend on the versatility of your WordPress
theme, much like styling blog posts, category archives, author listings,
etc.
We originally developed this Search Bar element to work with Thrive Theme Builder which will let you customize your search results template. But we decided to make this element available to you in Thrive Architect right now.
2. VooPlayer Integration
You asked. We listened.
We keep track of the feature requests you leave in our support forum, and one that was very popular was a VooPlayer integration.
VooPlayer is a video hosting and marketing tool, with some advanced video features built right in.
Now when you place a video element on your page, you can select VooPlayer as the source.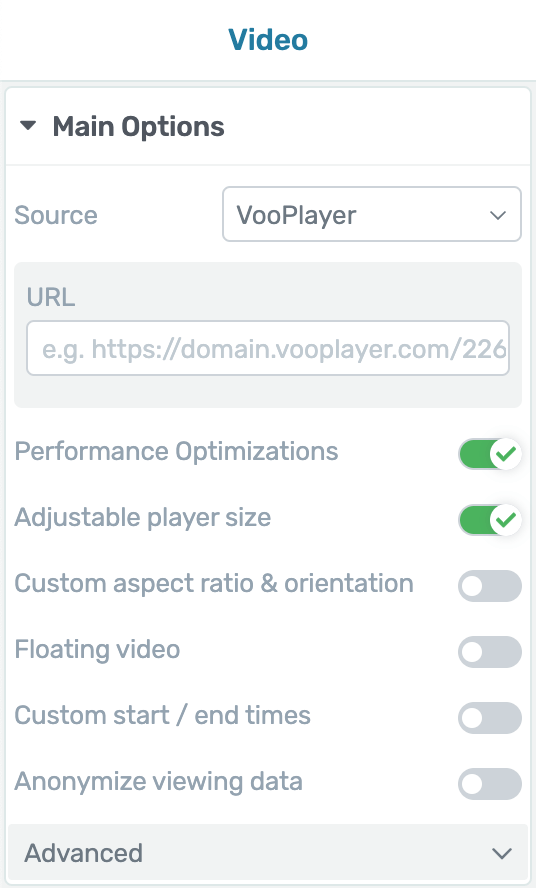 Loading VooPlayer includes new options.
Once you do, a host of new features will become available on your VooPlayer videos.
We'd
love to take credit for these features, but they were made by the
VooPlayer development team. We simply let you access them right inside
of Thrive Architect!
3. Speed and Performance Improvements
Most
of our releases include some under-the-hood updates. They might be less
noticeable, but that doesn't make them any less valuable.
This latest update includes some significant speed and performance improvements inside of the Thrive Architect editor. You'll find it's faster and smoother to use, especially on long pages that load lots of content.
Want to try it out?
Try dragging size sliders in the sidebar or use the color picker and you'll notice the difference. It's just instantaneous!
Viewport Drag Acceleration
When you click-and-drag an element up or down your page, you'll see an improved drag field:

The blue scroll field can now accelerate depending on your cursor position.
This blue block that appears is distance-sensitive, and can be used to accelerate your scrolling.
If
you drag your cursor just into the edge of the blue block, your
viewport will scroll slowly. Push your cursor deeper into the blue
block, and your viewport scrolling will accelerate.
Now it's much easier to move content around a long page.
4. Custom Field Shortcodes In The Post List Element
This
is one for the advanced users, and it takes some explaining. But once
you understand it, you'll see how this opens up so many use cases.
You've probably seen the insert shortcode option in your typography bar. With this button, you've already been able to add a dynamic field.

Insert Shortcode was introduced earlier this year.
An example of this would be your company's phone number.
By
inserting it as a shortcode rather than static text, you can update
your phone number from one central place (Thrive Dashboard > Smart
Site > Global Fields), and safely know that your phone number is
updated everywhere you have used that shortcode.
But, if you use the Insert Shortcode option when you are in the edit mode for the Post List element, you'll find lots more options: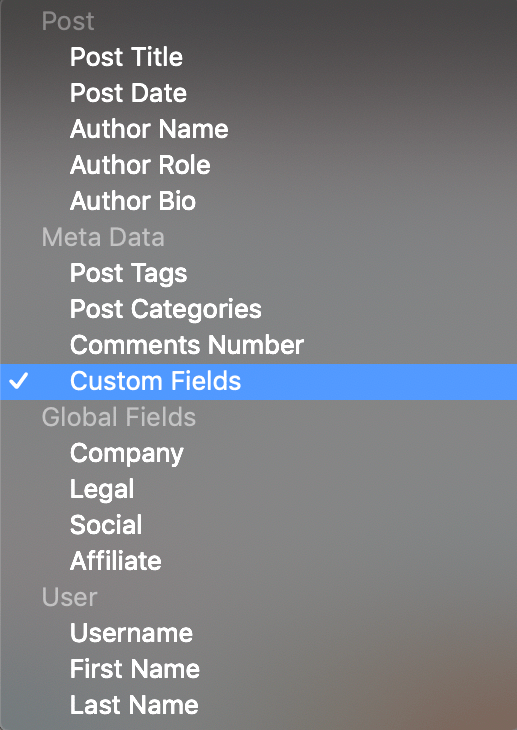 Look at all those dynamic shortcodes!
One of those options under Meta Data is Custom Fields.
A
Custom Field is a piece of information attached to a WordPress post or
page. Yes, that includes custom post types too! It could be a
nationality for a recipe, a job title for a team member, or a price for a
product.
To illustrate how this works, let's use the example of recipes.
I
have created a Custom Post Type and labelled it Recipes. You can see it
listed in the WordPress sidebar on the left hand side in this image: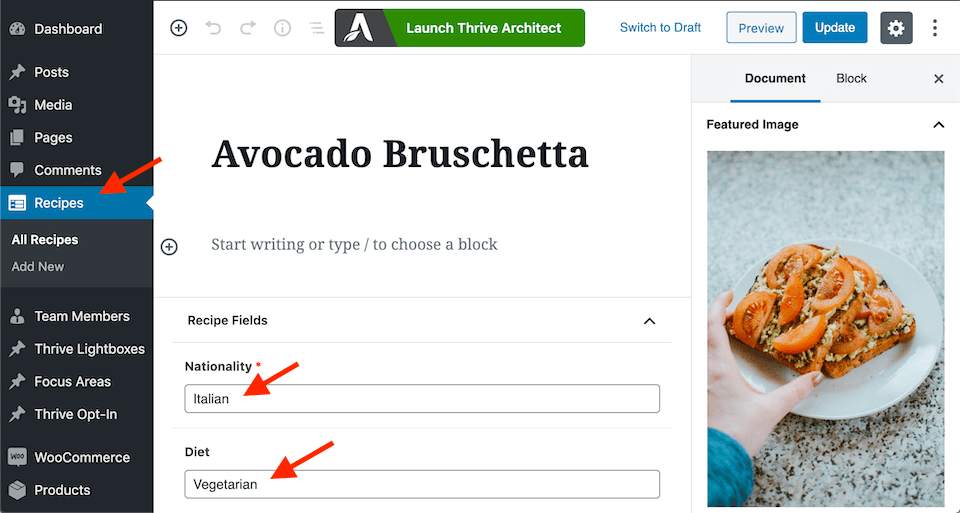 In this case, Recipes is a Custom Post Type with two custom fields.
I've also created two custom fields that are attached to my recipes: nationality and diet.
For
each recipe that I create, I'll fill in these custom fields inside the
post. For this Avocado Bruschetta example, you'll see the nationality is
set as Italian and the diet as Vegetarian.
Now in Thrive Architect, I've added a Post List element to the page.
To make it display recipes, you just have to click the small triangle to the right of the post type under the filter settings.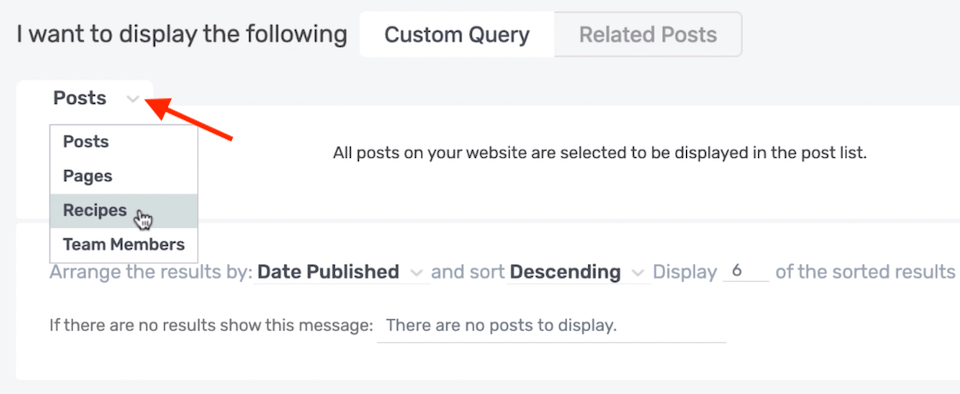 Click the triangle to select a different type of post to display
This opens a drop down of different post types… including the Recipe custom post type. With that selected, the Post List now displays a list of recipes that looks like this:

The Post List now dynamically displays my custom post type, Recipes.
With me so far?
Now
I'd like to display the matching custom fields in this Post List. Which
finally brings us to the new feature we have just released in Thrive
Architect: Custom Field Shortcodes.
While in the edit mode
for the Post List, you can drop a text element into the post list and
select your custom fields from the Insert Shortcode option in the
typography bar.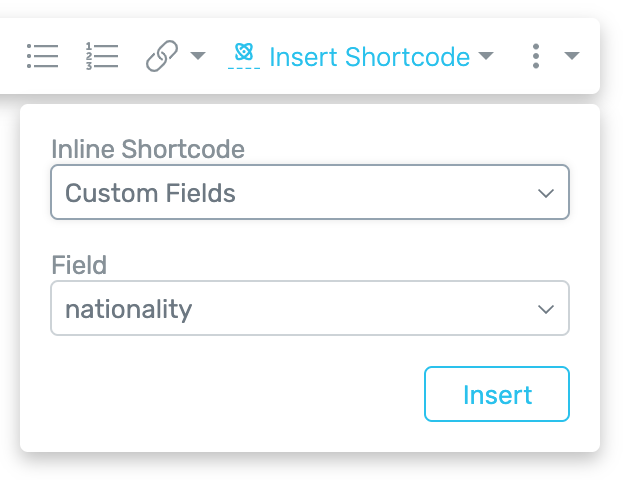 Just a few clicks to add that dynamic custom field
This shortcode will populate with the custom field data for that specific post. You'll see the placeholder text like this: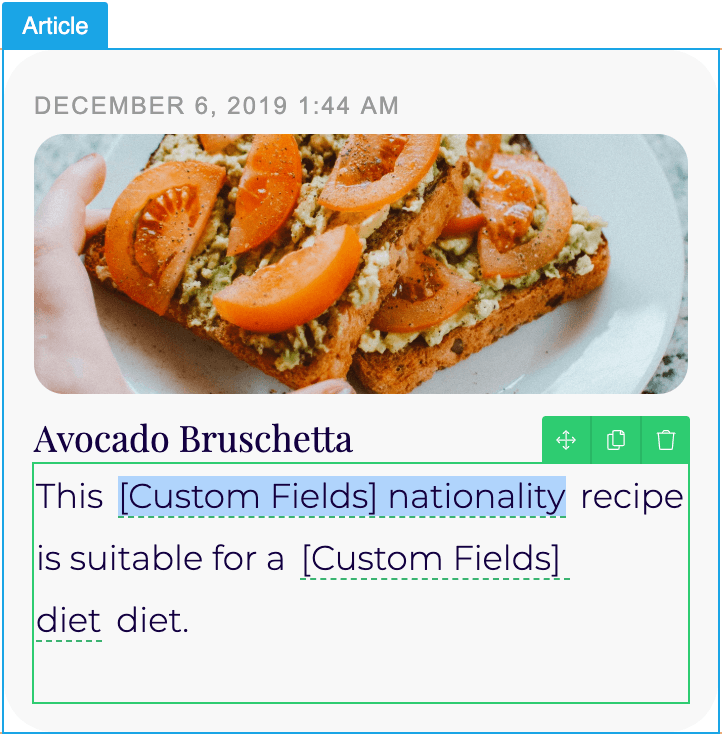 There's the placeholder for the custom field
In this example, I've created some static text around the custom field shortcode so that it will read correctly in a sentence.
The result? On the front end, this data is dynamically replaced. Have a look: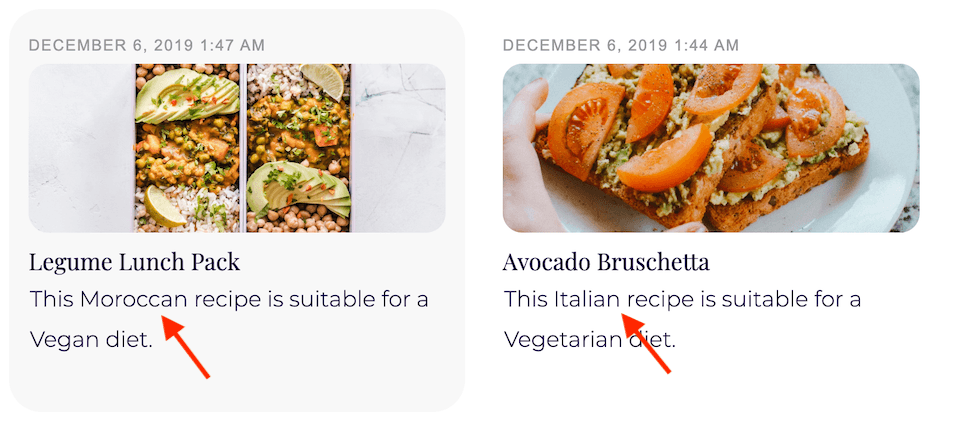 The custom field shortcode has been magically replaced with the correct text.
As
you can see, the two posts included in my post list have different
information for their nationality and diet fields, and are displayed
correctly to the visitor.
If you managed to follow along, hopefully you'll start to see the infinite use cases for this feature.
Here's another practical example: Team Members. If each team member is a custom post, you can set their role and department as custom fields.
Use
the correct shortcode and in no time at all, you've created a listing
of your team members that updates with the latest information about your
employees.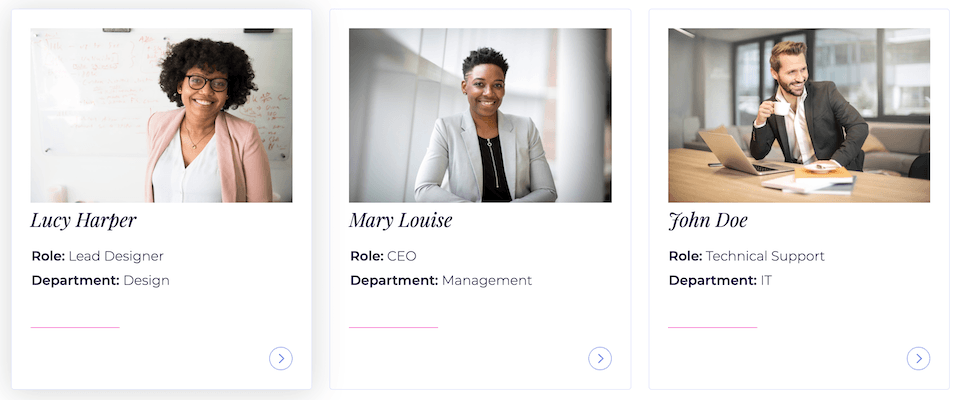 Role and Department are dynamically replaced to match the team member.
We
also built this Custom Field Shortcode technology for Thrive Theme
Builder, (which is still in development) but since it has practical uses
in the Post List element, we've made it available in Thrive Architect too.
WooCommerce Pro-Tip!
If you're a WooCommerce user, you're going to love this:
WooCommerce
products have lots of hidden metadata fields, but we know that this
custom field shortcode technology would be especially useful for product
listings.
So our developers have gone the extra mile to whitelist four WooCommerce values: price, sale price, regular price and product rating.
Yes,
that means you can use the Post List to display your WooCommerce
products and include their price or rating just like any other custom
field.
5. Send Lead Gen Data Via Email
There
are times when you may want to send a notification to yourself or a
team member when someone signs up to your mailing list.
Well, you'll now find email available as an integration in the Lead Gen element.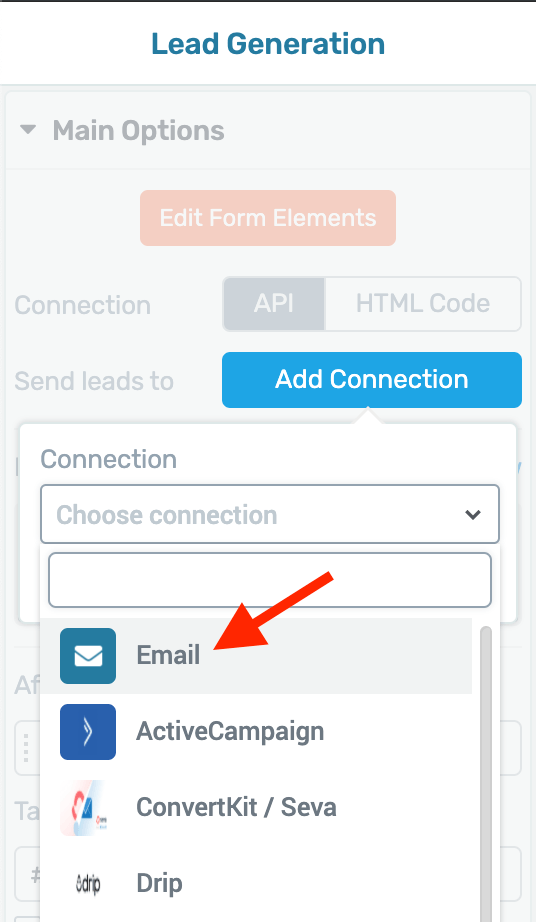 New Email option.
When you select Email under the Add Connection settings, you'll be presented with some options: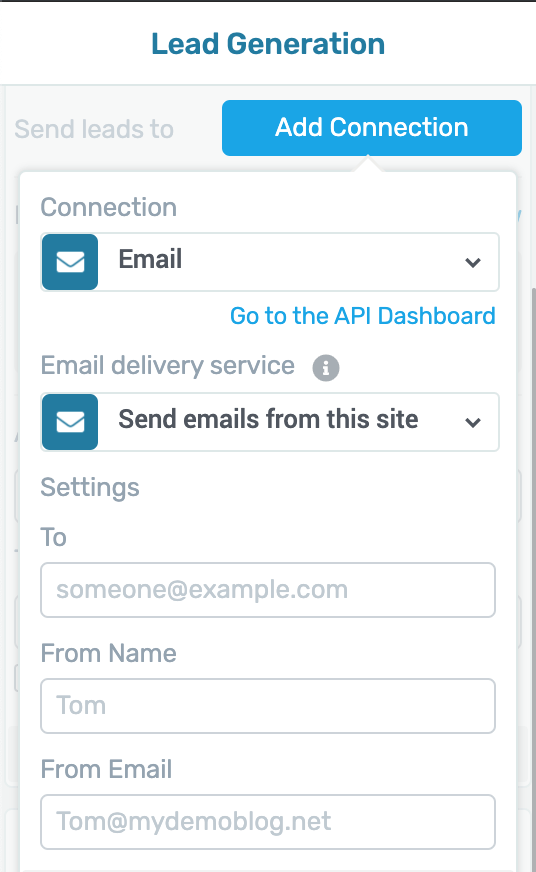 Customize your email sender info
If
you choose to send emails from your own site, it will send from the
mail server set under your WordPress mail settings. You can also connect
with a third-party transactional email service, such as PostMark. These
connections are setup through the API settings in your Thrive
dashboard.
From the Thrive Architect sidebar, you can set the
email recipient, sender name and sender email address. Then you can
specify what data to include in the email.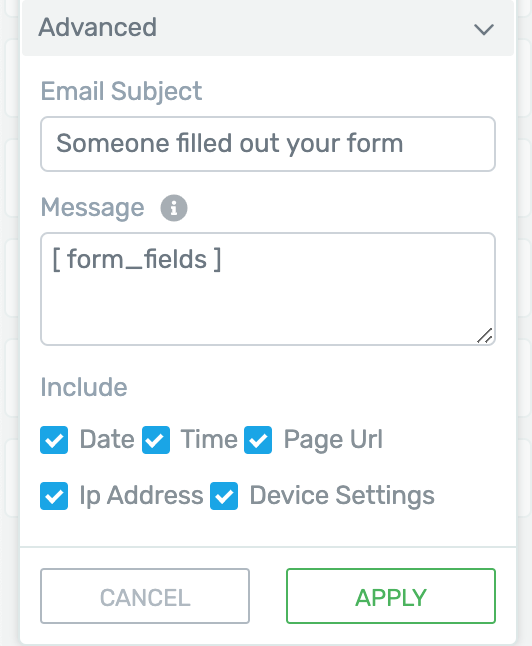 What data do you want to send? Easy!
By default, the email will include your Lead Gen form fields, but you can include additional information if you would like.
Remember,
you can set more than one API connection to your lead gen form. In most
use cases, you'll want to add the visitor as a subscriber to your
mailing list as well as sending their information via email.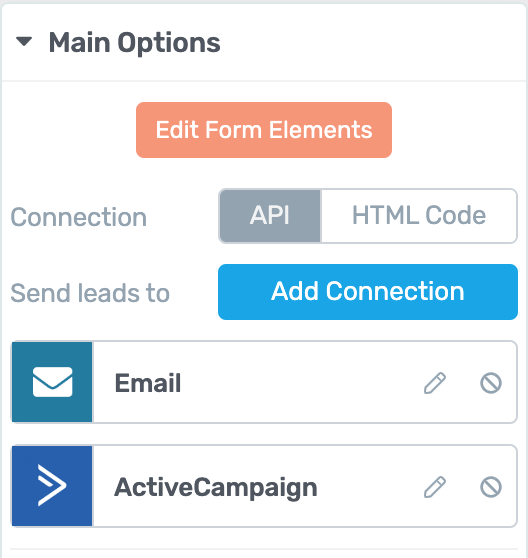 You can send an email as well as subscribing to your mailing list.
6. Custom Field Integration with Email AutoResponders
We have just deepened our lead gen integration to include custom fields with 4 popular email autoresponders: ActiveCampaign, Mailchimp, AWeber and GetResponse.
These custom fields are not to be confused with the custom field shortcodes inside of WordPress that are included in this update… but the idea is similar.
Most
email marketing tools let you create custom fields that apply to your
subscribers. You can assign additional information to a subscriber in
these fields.
By default, a subscriber is usually just an email address, a first name, and sometimes a phone number and last name.
But
you might want to collect some other information, such as their
company's website. If you are using any of the 4 email tools above, then
the lead gen element in Thrive Architect can now pass information from the opt-in form to that custom field.
To do this, just click to add a new form field. From the field types, you'll have new options including text, URL and hidden.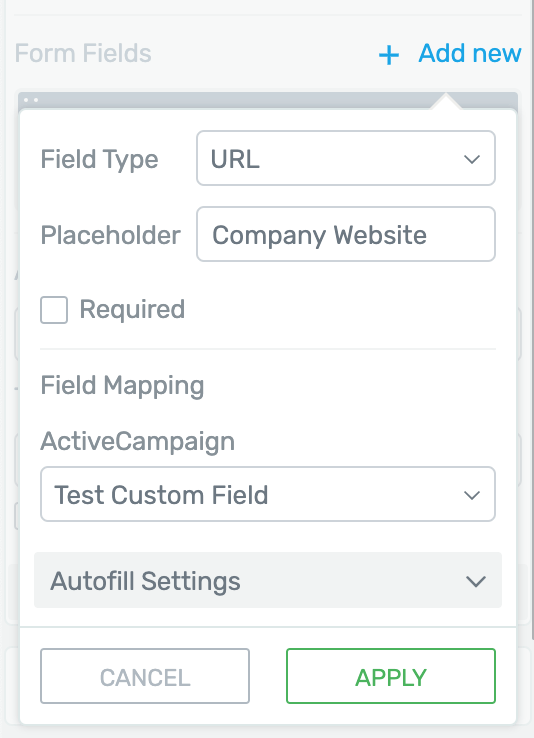 Map your new form field to a custom field
When you pick one of the new fields, you'll have a field mapping
option. This is where you can assign the custom field inside of the
email marketing tool that you would like to send the information to.
Once you click apply, your lead gen form will have a new field.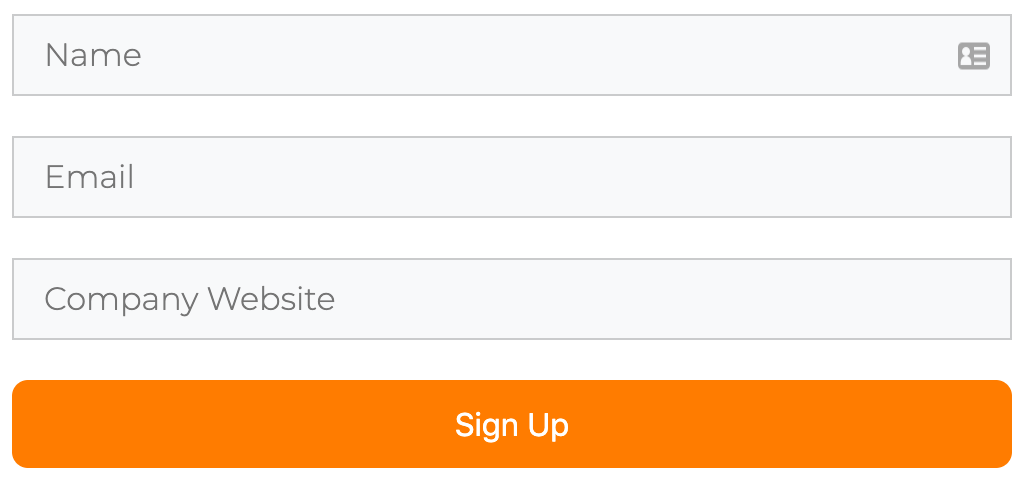 New 'Company Website' field added!
Using Hidden Fields:
A hidden field is one that passes information to your email marketing tool without being visible to the visitor on your website.
In this case, you set the custom field value yourself rather than collecting it from the visitor.
Let's say you have an opt-in form on a fitness website.
On
this specific webpage, you are inviting visitors to fill out a form if
their goal is to build strength. You don't need the visitors to declare
that themselves, because they simply wouldn't be on this webpage if that
wasn't their goal.
Simply add a new field, select hidden as the field type, and map it to your custom field.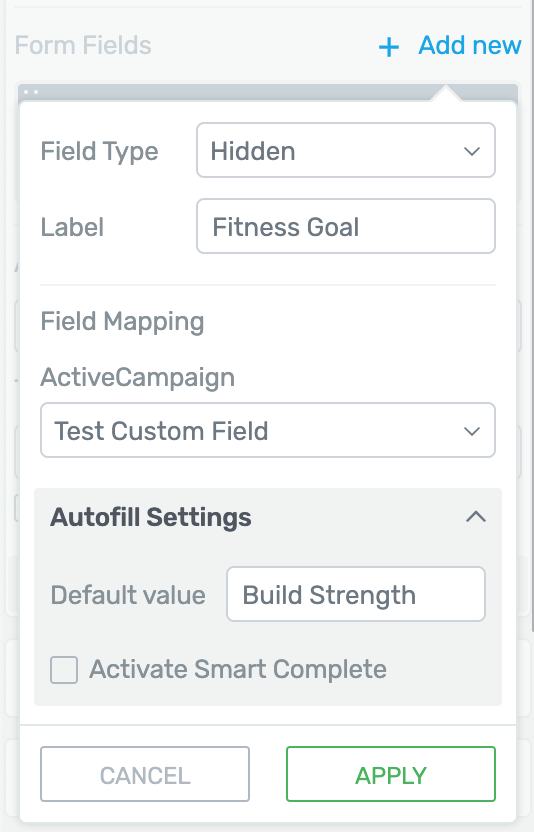 Use Autofill with a hidden field
Make sure to enter the default value into the Autofill settings or else you won't pass any information into your custom field.
Once
that's set, you'll have your hidden field connected, but your opt-in
form will still only ask for first name and email address.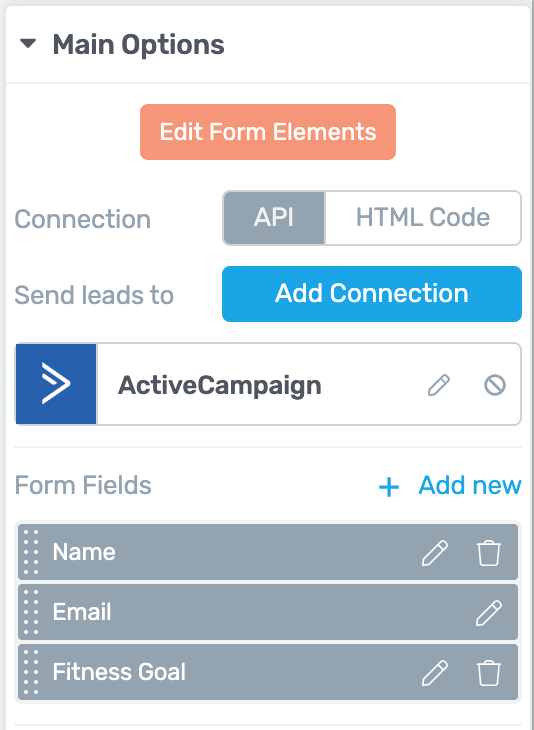 3 fields on the back end, but only 2 will display on the front end.
Whenever
a visitor submits this form, you'll collect their first name and email
address… and also pass your hidden field value into the custom field
attached to that subscriber in your mailing list.
Tags: